Best in Joint Replacement Surgery in Anand
The OrthoRAB Joint Replacement Center provides comprehensive evaluation and treatment for patients with permanent and progressive damage to knees, hips, or shoulders as a result of osteoarthritis, rheumatoid arthritis, trauma, or other joint disorders.
Quick Look at benefits
Specially designed 'Ultra clean Air- class 100' OT environment to minimize the chances of infection
'Clean Air Technology' – a system approved by well-known consultants of the country
Best of the breed equipments
Highly experienced surgeons
Constantly updated medical technologies for flawless operations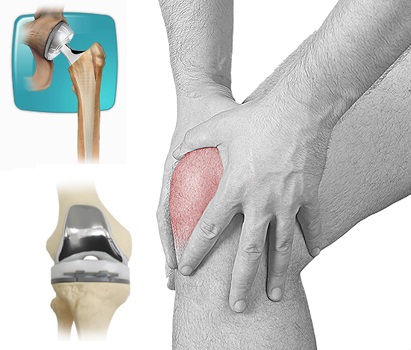 What is Joint Replacement Surgery?
Joint replacement surgery is removing a damaged joint and putting in a new one. A joint is where two or more bones come together, like the knee, hip, and shoulder. Sometimes, the surgeon will not remove the whole joint, but will only replace or fix the damaged parts. The doctor may suggest a joint replacement to improve how you live. Replacing a joint can relieve pain and help you move and feel better. Hips and knees are replaced most often. Other joints that can be replaced include the shoulders, fingers, ankles, and elbows.
What Is a New Joint Like?

A new joint, called a prosthesis (praas-THEE-sis), can be made of plastic, metal, or both. It may be cemented into place or not cemented, so that your bone will grow into it. Both methods may be combined to keep the new joint in place.

A cemented joint is used more often in older people who do not move around as much and in people with "weak" bones. The cement holds the new joint to the bone. An uncemented joint is often recommended for younger, more active people and those with good bone quality. It may take longer to heal, because it takes longer for bone to grow and attach to it.

New joints generally last at least 10 to 15 years. Therefore, younger patients may need to have the same damaged joint replaced more than once.